Winter 2019 Newsletter
Message from the Chair
Department Spotlights
Department Kudos
Alumni Updates/Class Notes
Donor Recognition
Message from the Chair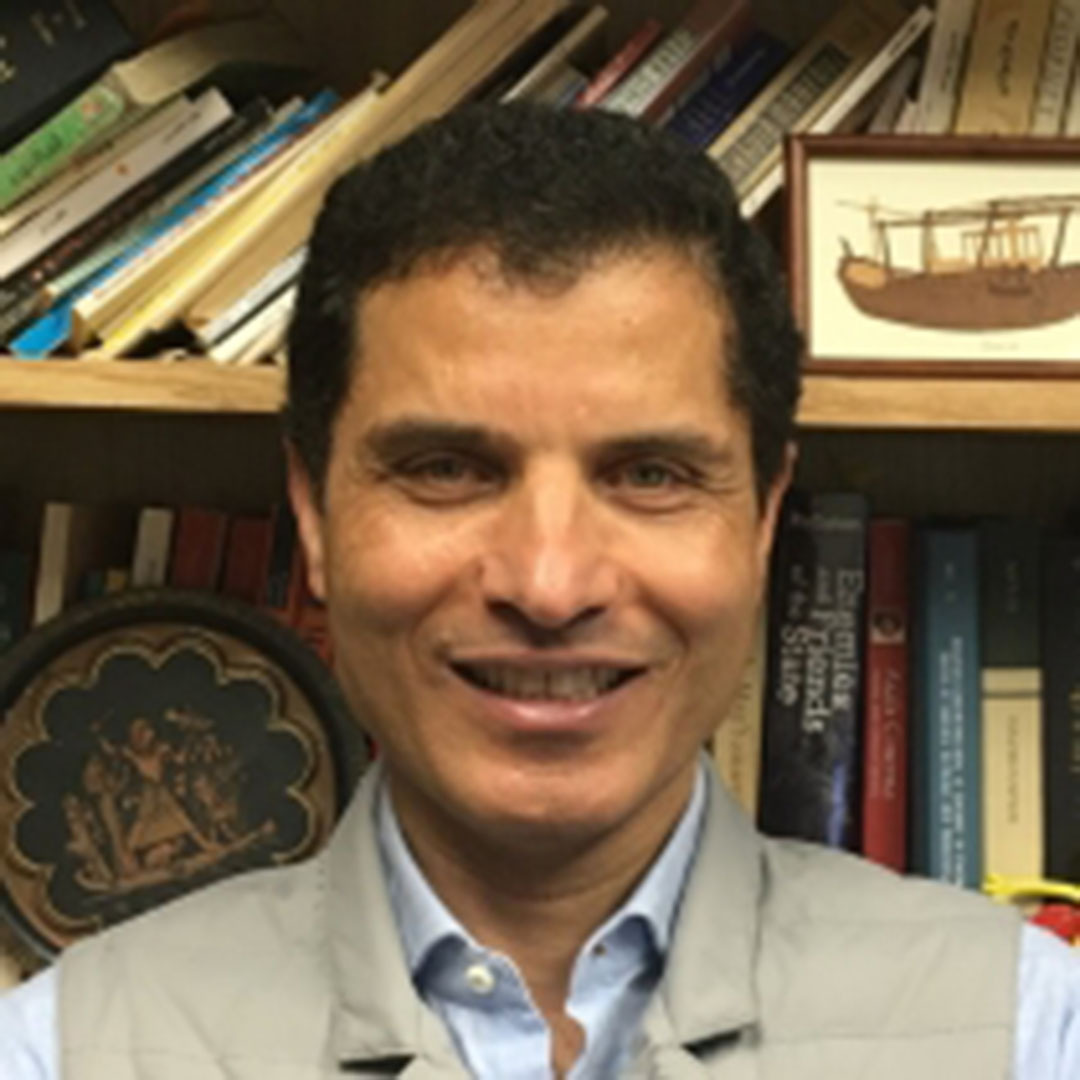 Mohssen Esseesy, Department Chair
Welcome to the relaunched newsletter of the Department of Classical and Near Eastern Languages and Civilizations (CNELC)—a vibrant and diverse community of faculty, staff and students sharing a common purpose of advancing knowledge and connecting the past to the present.
I am happy to share with you some exciting news from our department. We ushered in this academic year with the faculty approval of the revised Classical Studies major to an expanded Classical and Ancient Near Eastern Studies major. This revised major harnesses the collective expertise of our faculty and meets the academic and professional needs of our students. The revised major will be in effect for the next academic year.
This academic year also is the first in which the students in the Business Arabic class will have the chance to partake in a short-term study in Oman, which is led by me during the 2019 Spring Break. Across all our six languages—Arabic, Greek, Hebrew, Latin, Persian and Turkish—students continue to receive free tutoring, as outside support for classroom learning.
We are excited to stay in touch with you and provide you with notable news and information about our CNELC community. Please feel free to contact me at [email protected], we hope to hear from you soon.
---
Department Spotlights
Faculty Spotlight: Katherine Wasdin
Katherine Wasdin (fifth from right) at the Eta Sigma Phi induction ceremony.
Katherine Wasdin has been busy this semester with an exciting new class on Women in the Ancient World, in addition to teaching a great group of students in Intro Greek. With her book on wedding and love poetry (Eros at Dusk, Oxford 2018) recently published, she is now turning to her next project: a study of the reception of Catullus by postmodern female artists and authors. She also recently assisted the growing chapter of Eta Sigma Phi in inducting new members and is looking forward to working with them to plan events and activities for the rest of the year.

Faculty Spotlight: Elise Friedland
Elise Friedland's article, "The Sebaste Apollo: Form, Function and Local Meaning," appeared in the volume Roman Artists, Patrons, and Public Consumption: Familiar Works Reconsidered, edited by Brenda Longfellow and Ellen Perry (Ann Arbor, MI: University of Michigan Press, pp. 117-141). She also delivered two public lectures on her new research on 19th century reception of Roman painting in the U.S. Capitol Building: On March 14, 2018, she spoke on "Pompeii on the Potomac: Constantino Brumidi's Nineteenth-Century, Roman-Style Frescoes for the Naval Affairs Committee Room in the U.S. Capitol Building," at the U.S. Capitol Historical Society, Washington, D.C. On May 31, 2018, she delivered a talk, "Publishing Pompeii in Germany and Painting Pompeii on the Potomac: Library of Congress Sources for Brumidi's Frescoes in US Capitol S-127," for the Rare Book and Special Collections Division at the Library of Congress.
Professor Friedland also gave a special tour (along with the curator of the Capitol) to the Board of Trustees of the Archaeological Institute of America of the 19th century, Pompeian-style fresco cycle in the Senate Appropriations Committee Meeting Room in the U.S. Capitol Building on April 26, 2018.
During summer 2018, Professor Friedland taught a five-day summer study tour course from July 8-13, 2018, for the Vergilian Society, "Greece and Rome in Washington, DC: Classical Influences on Our Founding Fathers," that was attended by three Latin teachers from around the United States, two University of Maryland Classics MA students and three members of the public. Toward the end of the summer, Professor Friedland spent two weeks in Jerusalem at the Israel Antiquities Authority assessing a new project she has been invited to undertake: the publication of the entire corpus of Roman sculptures discovered at the Roman and Byzantine site of Beth Shean/Scythopolis, the largest Roman archaeological site in Israel.
Faculty Spotlight: Andrew M. Smith
Andrew M. Smith II has been very active in research and development in Jordan. Between 2015 and 2018, Smith directed a USAID project through ACOR/SCHEP to map the various land routes between Bir Madhkur and Petra. The main thrust of the effort was to document the ancient Incense Road, to promote economic development in Wadi Araba, one of the most impoverished areas of Jordan, and to focus on sustainable cultural heritage development through engagement with the local community of Bir Madhkur.
To support these efforts to help the local community of Bir Madhkur, Smith maintains a partnership with a new Bedouin NGO cooperative at Bir Madhkur, with the Hashemite Fund for the Development the Jordan Badia and with the Department of Antiquities of Jordan. The current directive is to develop a research facility at the site that will provide many opportunities for GW faculty and students to work in southern Jordan on various interrelated projects geared toward tourism development and sustainability (or in other areas). Meanwhile, Smith continues to give public lectures highlighting his research on the ancient site of Petra and its urban development between classical and late antiquity.
---
Faculty Kudos
This past spring, three of Elizabeth Fisher's heavily annotated translations appeared in the volume Michael Psellos on Literature and Art (University of Notre Dame Press). The translations are from the original Greek of works by Michael Psellos, an 11th century Byzantine intellectual. One translation is a legal brief describing a lawsuit stalled in the Byzantine court system and eventually decided by the occurrence of a miracle—a novel procedure agreed upon by the two contesting parties that Psellos presents as a possible legal innovation ("Discourse on the Miracle that Occurred in the Blachernae Church"). A second annotated translation is a biographical sketch of a great Byzantine scholar that Psellos considers eligible for sainthood ("Encomion for Kyr Symeon Metaphrastes"). Elizabeth's current research continues this work with an article in progress on Psellos' influence in fostering the reputation of Symeon Metaphrastes so that he eventually did achieve formal canonization.
Eric Cline's book Three Stones Make a Wall (Princeton University Press) won the ASOR 2018 Nancy Lapp Popular Book Award at the Annual Meetings of the American Schools of Oriental Research. Currently, Eric is working on his Megiddo book —Digging for Armageddon—and getting ready for the summer 2019 season at Kabri in Israel.
Mohssen Esseesy presented on at the Professional Development Seminar on Teaching Business Languages at the GW School of Business on Arabic proverbs as a window to Arab cultural values. He will also be leading a short-term study in Oman during the 2019 Spring Break as part of a one-credit course (CCAS 2190) Oman Business and Culture. The objective is to explore various business sectors, which are vital to Middle Eastern economies. Participants in this course will attend presentations and participate in conversations with business professors and corporate executives, government officials and diplomats and practice their Arabic in various specialized business domains and casually with Omanis. While in Oman, students will visit corporations and institutions in oil and energy; Islamic banking; tourism; development and investment; family-owned business; small business incubators; and entrepreneurs. Cultural exploration will include a treasure hunt using Arabic to bargain in a traditional market (souq), a visit to the National Museum, Nizwa Fort and Museums among others.
In summer 2018, Nashwa Taher worked as a trainer for a group of K-12 educators.
Francesco Sinatora recently co-authored the article "Orientalism and neo-orientalism: Arabic representations and the study of Arabic," in the edited volume Middle East Studies after September 11 (Brill 2018).
In fall 2018, Orian Zakai launched the Hebrew Café through the Hebrew Program. Hebrew Café is an informal setting for practicing Hebrew speech, as well as learning about the histories and cultures associated with the language. They meet roughly every other Thursday at 7 – 8 p.m. Pizza/light dinner is served courtesy of the Judaic Studies Program! For questions or to RSVP, contact Orian.
Jennifer Tobkin is working on her contribution to a forthcoming Festschrift about Arabic Christianity. The article is titled "Revisiting Cheikho's Assessment of Abū Tammām's Christian Origins." Abū Tammām Ḥabīb ibn Aws al-Ṭāʾī  (d. 845) was a poet who wrote in Arabic and is famous for his elaborate wordplay and far-fetched metaphors; he wrote poems in praise of several Abbasid caliphs. While few details are known about his early life, he is said to have been born into humble circumstances in the village of Manbij in Syria. He moved to Cairo, where he established a reputation as a poet. The article discusses the reports, found in biographical sources about Abū Tammām, that the poet was born into a Christian family and converted to Islam as an adult. It compares the biographical information available about him to that of other poets of the same period.
---
Alumni Updates/Class Notes
William Berkery, BA '18, is sticking around GW auditing both Greek and Latin classes while he applies to graduate programs. He is also working full time as a server at America Eats Tavern and working part time for ASOR as a media consultant.
Hilary Bonn, BA '16, recently graduated from NYU's master's program in museum studies. Throughout her time there, she focused on fundraising and development, interning at the American Museum of Natural History and the Guggenheim Museum. She has just begun a new position as a development associate at The Cooper Union for the Advancement of Science and Art.
Katherine Bradshaw, BA '16, MA '17, is in her second year of a master's in Greek and Latin at the University of Maryland and planning to become a high school Latin teacher upon graduation.
Joshua Cohen, BA '16, has been working at the Department of Justice on justice-sector assistance to the Middle East and North Africa since graduating in 2016. In August 2018, he began a rotation in the Office of the Assistant Attorney General for the Criminal Division.
Katherine Cunningham, BA '13, is now pursuing a dual MBA/MS at the University of Michigan focused on how the private sector can advance climate action. She was previously working at the nonprofit Americans for Peace Now and Later as a consultant for USAID's Global Climate Change Office.
Aly DesRochers, BA '12, completed an MA in archives and public history from New York University, worked as an archivist in an art and design archive in New York and worked as a grants specialist at the Institute of Museum and Library Services providing federal grants to libraries and archives across the country. In early 2018, she accepted a position as digital collections specialist at the Library of Congress in a newly created unit that works to care for and provide access to the library's collections in digital formats.
Daniel Ericson, BA '02, is senior counsel in the Federal Reserve Board's Legal Division, having practiced law there since 2010. He is also a professorial lecturer in political science at GW, teaching constitutional law.
Roe Granger, BA '15, is currently attending Villanova University's Charles Widger School of Law and, upon graduation, hopes to represent companies in the Middle East.
Colleen Hegarty, BA '15, is currently in her second year at Harvard University's Center for Middle Eastern Studies and will be graduating with a master's degree in Middle Eastern Studies this upcoming May.
Michael Jacobs, BA '08, is a program manager with IBM Corporate Citizenship and focuses on pro bono development and delivery of technology for social good. Previously, he held product management and analyst roles at New York City Transit and Booz Allen Hamilton.
Jordan Lesser-Roy, BA '16, is now working for a civilian protection focused NGO, the Center for Civilians in Conflict (CIVIC). Her portfolio covers the MENA region and she uses her Arabic interacting with teams from Yemen and Iraq each day.
Guoshi Li, BA '16, after a year working at the GW Museum and Textile Museum as a research assistant for the upcoming exhibition, "Woven Interiors: Early Medieval Textiles of the Eastern Mediterranean," began an MA program in classical languages at Columbia University. He is currently working on his MA thesis, tentatively titled "Alpinae tricaeque: Biopolitical Arithmetics and Raw Material(ity) in Martial's Xenia and Apophoreta."
Emily Marcus, BA '15, after one year teaching Latin at D.C.'s School Without Walls and one year working as an administrative assistant at Northeastern University's Department of English, entered the MFA program in creative writing at the University of Massachusetts, Amherst, with a focus in fiction. There, she has been teaching college writing and crafting stories largely inspired by her undergraduate studies in classics. 
Sarah Margolis, BA '14, BS '14, is completing her master's in economics at Columbia University this fall.
Robin Pokorski, BA '14, after a year working at George Washington's Mount Vernon as events and protocol assistant, began a PhD program in medieval history at Northwestern University. She recently arrived in Germany on a year-long Fulbright fellowship and will be conducting dissertation research in archives in Freiburg and Munich. Her research focuses on Dominican nuns in 15th century southern Germany, examining their social networks and thriving manuscript trade during a period of monastic reform.
Kirby Rousseau, BA '17, is pursuing a JD at the George Washington University Law School.
Danielle Tyson, BA '13, continued her studies and received a MA in museum studies from GW after completing her BA in art History and archaeology. She is now the assistant director of membership and annual giving at the George Washington University Museum and The Textile Museum.
Jonathan Warner, BA '12, after earning an MA in classical languages at the University of Georgia, began a PhD program in ancient history at Cornell University, where he is currently in his fifth year. He is working on his dissertation, which focuses on martial imagery in late-antique texts and explores how conceptions of military service affected the society of the Later Roman Empire.
Katherine Williamson, BA '15, is currently enrolled at the University at Albany in their dual master's program, studying public history and information science with an archives focus. She is also a graduate assistant at the university and plans on graduating at the end of 2019.
---
Donor Recognition
The Department of Classical and Near Eastern Languages & Literatures would like to gratefully acknowledge the following generous donors who made a gift to the department from January 1, 2018 – December 31, 2018.+ Faculty/Staff | # Parent | ~ Student | * Friend
Ricardo G. Azze ~
Kylie E. Madden, BA '17
Robert M. Query, Jr., MS '83, Applied Sci '94
Michael W. Weeks +
Rachel E. Wilkinson, BA '18